Prefab homes are fast becoming an important part of the housing market in America, and many other countries around the world as well.
Many people are choosing prefabricated homes over traditionally built homes since they are less expensive, can be completed faster, and are more difficult to finance.
But how do you go about purchasing a prefabricated home? What do you need to know before you go out and buy one? What distinguishes them from traditional houses? Are these prefab houses are sustainable enough? Can you live comfortably with your family? How long-lasting prefab homes are ? Are they strong enough to handle natural disasters like earthquakes, tornados, storms, heavy rain or snow, etc
And there is so much to learn about prefabricated homes. Because you don't want your final decision to become a disaster.
Apart from this, if it is you who will be investing in it, then you must have your own knowledge instead of relying on other advice or suggestions.
And it is not that difficult to learn, all you need to some basic details and fundamental things and do a lot of prior research.
So, if you have somehow landed here, then thank you for stopping by and taking the time to read on.
Take a look at the table of contents, and feel free to navigate around the topic of interest.
What Is Prefab Homes ?
Prefab is short for prefabricated, which means a home or part of a home is built in one location before being assembled somewhere else.
This method is used for many reasons, but it's especially useful for remote and/or inaccessible areas—it allows people who might not otherwise be able to own a home to have access to a better quality of life.
In some cases, pre-built homes can also reduce construction time, as opposed to traditional building practices.
A prefab home is a manufactured or modular house. It is assembled in a factory and then transported and installed on-site.
Since it does not have to be built from scratch, a prefab home can be constructed much more quickly than a typical site-built home, usually within weeks or months instead of years.
This time savings is a major advantage for anyone interested in constructing their own home, especially first-time homebuilders.
---
What Are The Types Of Prefab Homes? How Much Prefabricated Home Cost ?
There are several types of prefab homes, you'll find that different peoples tell different numbers. But in my case, I'll be discussing 3 main types of prefabricated homes, that most commonly come into consideration when we talk about prefab homes.
It can be also prefab shipping container homes.
These three prefabricated home types are –
Manufactured Homes
Modular Homes
Penalized Homes
Manufactured Prefab Homes :
A manufactured home is a prefabricated dwelling that is produced, assembled, and transported to a site. These homes are built off-site in a controlled factory or industrial environment and then delivered to your property by vehicle (truck) on land which has been prepared for foundations.
Manufactured homes have been around since the 1940s; however, it wasn't until recent years did they grow in popularity due to increasing housing costs and lower land prices.
Price Of Manufactured Prefab Homes
The cost of manufactured homes varies according to design, size, building material, and location.
Manufactured homes are less expensive since they are built on an assembly line at a factory. It is built inside, so there are –
No weather delays, it becomes more efficient.
Theft of both workers and hooligans has no effect on manufacturing.
A manufacturer can buy huge amounts of materials at a lower cost due to the scale of production.
Manufactured homes have lower property taxes than on-site residences.
Manufactured home mortgages are easy to come by.
There are 3 types of manufactured prefab homes:
Single Wides
Double Wides
Triple/Multi Wides
Single Wides
Average Size: from 500 to 1200 square feet 
Included: 1-2 (rarely 3) bedrooms, 1-2 bathrooms
Price Between :

$43,500 – $59,000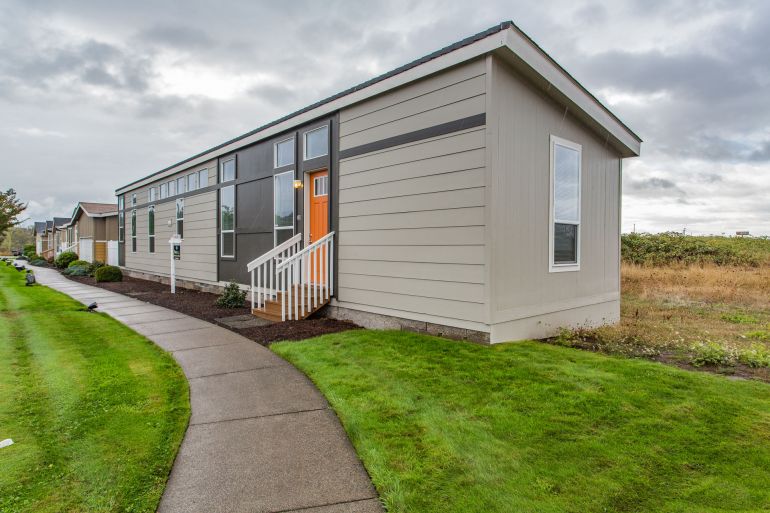 Double Wides
Average Size: from 1000 to 2200 square feet
Included: 2-3 bedrooms, 2 bathrooms 
Price Between :

$110,400 – $119,400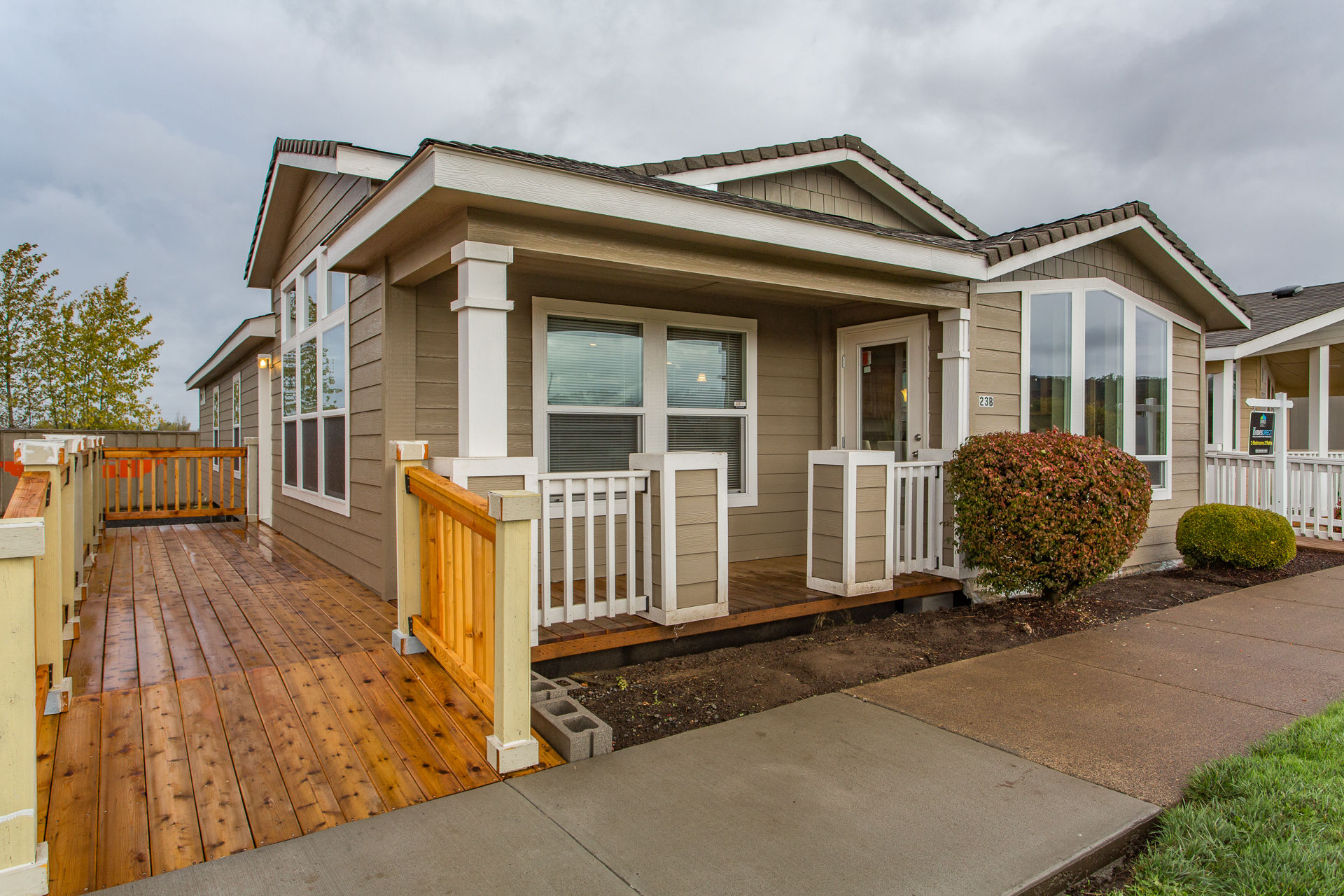 Triple Wides
Average Size: from 2000+ square feet
Included: 3+ bedrooms, 2+ bathrooms
Price between

: $92,900 – $103,100
---
Modular Prefab Homes :
Modular houses are built at a factory before being transported to a site for installation.
The modular homes are prefabricated and built-in factories, then transported to building sites where they're assembled by crews.
They use standardized building modules that have been designed to make construction easy. Prefab tiny homes can be mass-produced at a lower cost than a site-built home, which is why they're an increasingly popular option among homebuyers—especially those who want smaller homes that are affordable.
Their small size also makes them ideal for urban areas or anywhere else space is limited.
Price Of Modular Prefab Homes
Here an estimated prices from one company that sells these modular prefabricated houses –
As I said the price will vary as per company, location, design, are, etc.
The best way to find the appropriate homes is to start searching on Google and find out the list of nearest sellers.
Examples Of Modular Prefab Homes
---
Penalized Prefab Homes :
Panelized houses begin construction as panels that are later put together like puzzle pieces at an assembly site.
Penalized pre-built homes are increasingly popular in Brazil and other parts of South America. They provide affordable housing in a green and eco-friendly way.
Typically, they are self-built houses with no extra charge for land, meaning you can buy one almost anywhere in Brazil if you want to.
Price Of Penalized Prefab Homes
Depending on the final design and footprint, the average per square foot expenses range from $40 to $60+ per Square Ft. Panelized is our most cost-effective alternative, and it's ideal for individuals looking for a high-quality traditional home that can be completed quickly.
Examples Of Penalized Prefab Homes
| Manufactured | Modular |
| --- | --- |
| Transported on non-removable steel chassis which remains a structural part of the home. | Transported on a removable transporter. Transporter frames are not a part of the home and provide no structural support. The home must be placed on a foundation with a crane. |
| Are built on HUD code. | Are built to local and state code. |
| Are considered in a separate leading category for loans and mortgages. | Are considered the same as for single-family stick-built dwellings for loans and mortgages. |
| Although require to be secured to the ground they are considered removable and relocatable. | Are not re-locatable and are considered a permanent structure once placed upon the foundation. |
| Building inspectors check the work done locally, but are not required to approve the structure. | Building inspectors check the structure to make sure it meets requirements and that all finished work is done properly. |
| Generally less expensive than site-built and modular homes. | Sometimes less expensive per square foot than site-built houses. |
| Available in a pre-determined selection of styles. | Can be customized. |
| Are not allowed in some communities. | Are normally in all communities. |
---
Benefits Of Prefabricated Homes
Building a home can be a major undertaking. It requires a substantial financial investment and lots of time. If you need your home to be ready for occupancy in less than half a year, there's an alternative – prefabricated homes are a great option.
These dwellings are built off-site and assembled on-site.
The cost of a prefab home is significantly lower than a conventional house, which can save you thousands of dollars.
In addition, a prefab home can be built on your property, so there is no need for you to move out during construction.
Plus, because most manufacturers build them quickly and efficiently in their factories before shipping them to your site, it should only take about two months for a prefab home to be finished and ready for occupancy.
This means that instead of living without a roof over your head for several years, you'll have a fully livable space within a few months.
It's also nice not having to wonder whether anything might get damaged during construction—the delivery process protects every piece and part of your new home until it is completely assembled.
---
Understanding The Cost & Expanses Of A Prefab Homes
You want to build a new home, and you've heard that modular construction can let you build the perfect custom home with all of the speed, quality, and cost savings that prefabricated construction provides.
In order to build or get a prefab house, you'll need to know how much money you've to spend on every aspect. There are thousands of companies around the world and many around in your city, ready to offer and make a deal.
And that's where Base price comes in.
Base Price Of Prefab Homes And The Average Base Price
But lowering the price, even more, will more likely cause trouble. So, before you calculate the cost and other expenses like delivery or tax, you should be asking for a Base Price.
For example – if a reputed and well-known company is selling at a base price of $50-$70 per square foot, and in comparison to this you are contacted by someone and trying to sell for as low as possible, say a base price is $30-$40 per square foot.
Then in this scenario, you should be really careful in your judgment about the quality of the house like materials, strengtheness, air-water tightness. You must be willing to know the reason behind lower prices.
The quality of the prefab matter most. Because this is what determines the long-lasting and maintenance cost. You probably won't like to buy cheap prefab modular or manufacture houses that require intensive care and maintenance.
So, be aware of that.
Every home is different, but when it comes to the base pricing for a modular home, you can anticipate paying roughly $50 per square foot on average.
The base price just includes the cost of manufacturing the home; nothing else, not even delivery, is included.
And the next thing you'll be hearing about – Custom Price
Custom Price Of Prefabricated Homes :
This price includes the base home you had previously, as well as any tweaks or alterations you might wish to make, so it includes any improvements you requested from the manufacturer.
So, custom price is basically a customization charge, the more customization you'll request the more you have to spend.
If you want to make improvements to your property, expect to pay roughly $60 per square foot for custom work.
Once you're done with all of this then come next which – Delivery Cost.
Delivery Cost And Expanses In Prefab Homes
This is the price of having your bespoke modular home delivered to you.
This sounds like you've all the information knowledge regarding expenses you need to make, also many times manufacturers also tell you that this is the final price and expanse, and you're all set to move in.
But that's not it. This is not the case that ends here.
Till now, simply your prefab house will be delivered at the on-site location and placed properly with the help of a crane.
There is some additional cost at the end that you should know. And I'll add it into the finished cost.
Finished Cost :
The finished costs include utility cost, final touch-up work, buttoning up or building a foundation upon which prefab house sits.
So, you've to keep this expanse ready to be discussed while making decisions so that you won't have trouble financing your dream prefab dream house.
Taxes And Fees :
All include all the expenses in the checklist if you need household items, furniture, outdoor deck, appliances, lawn, landscaping, etc And I'll leave that up to you.
---
Why Prefab Homes Are Less Expensive ?
Prefabricated dwellings are less expensive and more economical than traditional or stick-built homes.
Prefabricated houses are less expensive than traditional housing for a variety of reasons — Prefabricated dwellings or components are prefabricated homes or components that are mass-produced or constructed on-demand, requiring less work and time.
Prefab buildings are less expensive than site-built dwellings for several reasons but the main are:
Less Waste.
Less Labor and Time.
Mass Prouduced
Factors That Affect Cost Of Prefab Homes :
Design
Home size
Design services
Location
Transportation
Installation
Access limitations: 
Local labor rates
Permits and taxes
How To Finance A Prefabricated House ?
It can be tough to obtain financing for a prefabricated home, but a construction loan may be able to assist you.
Once the construction and inspections are completed, a construction-to-permanent loan will pay the upfront costs of the home and then convert it into a mortgage.
A construction loan typically requires a 620 credit score and a 20% down payment.
For more information about financing a prefab home, you may refer to this guide.
---
Pros Of Prefab Homes
Prefab homes, as you might have guessed from their name, are homes that have been prefabricated or made in advance.
These are residences that don't require any on-site building once they've been delivered to the location where they'll be residing.
This is advantageous for both builders and homeowners, as it reduces costs while ensuring a high-quality product.
However, this makes them one of the more expensive home-building options accessible.
Cons Of A Prefab Home
While prefabricated homes might be a terrific way to save money for some, many people consider they lack character.
They don't have unique floor plans or design aspects that would set them apart from other houses in your community because they are mass-produced.
If you appreciate having a home that is unique and different from what everyone else has, then you should probably seek elsewhere.
With all of these advantages, it's easy to see why prefab homes are becoming increasingly popular among home purchasers. What do you think?
Is a prefabricated home good for you? Leave a comment below to let us know.
Pros
Affordable
Fast Build
Variety Of Design
Range Or Customization Options
Eco-Friendly
Energy Efficiency
Cons
Complicated Loan Process
Land Costs
More Up-Front Payment
Utilities Hook-Up
---
Customizing Option Available For Prefab Cabins
When it comes to selecting a prefabricated home, there are numerous possibilities. Customization is an important component of discovering your dream home, and you want it to be perfect for your needs, as you are surely aware.
As a result, if you choose a prefabricated home, you will most likely have some flexibility in terms of floor design and exterior elements.
However, because they're produced off-site in vast production facilities there may not be as much flexibility as with site-made homes; so it's crucial to confirm that your option can handle any required adjustments before proceeding.
Also, bear in mind that customizing a prefabricated home extends delivery time and incurs additional fees, so consider these variables while making your decision.
---
Would Prefab Home Is Suitable For Family To Live In ?
Many people have been flocking to prefab homes and seeking additional information, as a result.
If you're considering purchasing a prefabricated home, it's critical that you understand what they are and how they differ from normally constructed homes.
Are they appropriate for your household? What are the advantages they will provide you over standard options? What variables should you consider while making a decision?
The best way to identify whether the prefabricated home is suitable for your family is to experience it by yourself. The company itself helps you by giving tours and showing what it's like to live in with your family in house prefabricated.
---
Does Prefabricated House Sustainable ?
Prefabricated buildings are good for the environment, but are they truly sustainable? When making your decision, there are a few factors to consider.
Prefabricated housing is a good option if you want to cut down on waste and carbon emissions. However, it's crucial to note that not all of these homes—at least not yet—use recycled materials or nontoxic treatments on their walls and furniture.
There are, fortunately, additional options for those interested in prefab sustainability.
---
Prefab Homes Vs Traditional Homes
Prefab Homes
Less Expensive Than Traditional Home
Already Prefabricated In Company-House
Last Long For 30-55 Years
Construction Speed Is Quick
Quite Sustainable Depending Upon Built Materials
Require Little More Maintenance
Financing Loan Process Is Little Unusual
Traditional Home
Expensive Than Any Prefab Homes
Need To Build From Scratch
Last Longer Than Prefab Homes
Construction Takes Times
More Sustainable Than Prefab
Require Less Maintenace
Financing Loan Process Is Straightforward
Prefab Shipping Container Homes
Shipping containers are also well known for constructing affordable prefab homes. Right now, I'm not willing to discuss the home built of the container.
There is a whole different story about it. If you wish to learn about then you can read this blog.
>>> Shipping Container Home <<<
---