Modern rustic home décor are some of the most sought-after around, as they combine the warmth and coziness of classic country living with sleek contemporary aesthetics.
It's no wonder, though, because the rustic look has always been hugely popular with homeowners, especially those who like a comfortable and inviting home as opposed to one that's cold and austere.
By incorporating some of the following elements into your home and tweaking some changes, can bring modern and rustic vibe.
Modern rustic home decor incorporates the woodsy aesthetics of the outdoors with the luxuries of modern home décor to create beautiful indoor spaces that feel natural and inviting.
If you're looking to incorporate more natural elements into your living room, family room, kitchen or even your entire home.
Check out my opinion and point of view on modern rustic home designs for inspiration.
Before You Begin, Tell Me What Do You Mean When You Hear The Term "Rustic" ?
A variety of styles might be referred to as "rustic." The home's ability to reflect its natural surroundings is the key. 
Rustic design brings the outdoors inside, unlike other architectural forms like minimalism or mid-century modern that want the relationship to nature to be centred upon the view of the outside. 
The availability of natural materials, which are frequently kept unprocessed and in their unaltered state, gives the impression that you are still in nature even though you are relaxing in the comfort of your own house.
Architecture Of The Modern Rustic Home
In the modern rustic home, openness is essential. Farmhouses and mountain huts in the past vary widely in this regard.
The farmhouse was typically made up of modest practical rooms that were locked off from one another, unlike the hunting lodge, which was known for having a vast hall used for exhibiting trophies.
Today, both types of homes opt for an open floor plan that makes the kitchen, dining area, and living room one enormous communal family room.
The surroundings outside determine the materials. Nowadays, mountain lodges incorporate the traditional metal roof from farmhouses as an industrial accent.
The preferred material for outside cladding is frequently treated wood planks, though the type of treatment applied to the wood can vary.
Shou sugi ban is a natural choice for log cabins because the black surface blends in beautifully with the dense forest.
On the farm, however, wood planks can either be stained to highlight a richer tone or left untreated and allowed to gradually patina over time.
The rustic house has also changed in shape. There are other modern roof lines being used, such as a sharply slanted design or a dramatic A-frame, in addition to the centre gable, which is still used for both its practicality and aesthetic appeal.
The pitched roof's ability to create a striking interior space with vaulted ceilings and visible support beams is the key.
Understanding Furniture, Color, & Patterns For Rustic Home
Modern rustic décor is more refined and high-end; there are no more antler-covered walls or floral wallpaper in every room.
The words "masculine" and "rugged" are frequently used to describe this look.
That may conjure images of harsh objects and gloomy, dim areas. Modern rustic dwellings, however, are light and airy.
The goal is to create a house that can serve as a tranquil retreat following a day spent tending to a farm or hiking through the woods.
This entails a grouping of soft leather armchairs, a couple plush sofas, and a rug made to look like an animal hide.
Brushed brass or copper fixtures in the kitchen go well with the painted wood cabinets and stone countertops.
A live-edge table in the dining room can be combined with chic mid-century modern seating to create a modern aesthetic that departs from the traditional shaker style.
Due to the abundance of natural raw materials, the contemporary rustic home's colour scheme has an outdoor air to it.
The colour scheme of the room is determined by slate-tile flooring, fireplaces surrounded by unpolished river rock, and ceilings covered in reclaimed wood planks, but these materials don't always have to be dark.
Slate is available in a variety of light blue hues, and reclaimed pine can provide brightness to the room.
Concrete may give a design a cool industrial touch, but it should only be used seldom to avoid veering too far into brutalist territory.
It's the ideal substance for a coffee table or hearth.
Bright white walls give a rustic ranch a fresh, clean feeling that is ideal after a day spent in the stables.
Even whitewashing wood plank flooring can increase its brightness.
1. Lovable Texture
Modern rustic home design is all about mixing textures and materials.
A great way to start is by finding a modern rustic home furniture piece you love and building the rest of the room around it.
Think about adding in different textures through your decor, like a jute rug or sisal pillows. And don't forget about mixing metals as well.
This will help give your space a modern rustic feel.
Modern rustic home design doesn't have to be all wood and earth tones. You can still have sleek lines and pops of color.
Start with a clean base, like white walls or light wood floors.
Then introduce pops of red, yellow, or green into your furnishings and accessories.
You can also incorporate these colors into your artwork, like black-and-white photography prints mixed with bright acrylic paintings.
You might also want to mix different patterns within the same style.
For example, modern rustic home designs that mix both stripes and florals together in a living room will create an interesting juxtaposition.
Modern rustic home furniture could include slipcovered chairs and cushions for comfort, as well as metal-framed pictures hung on the wall.
Mixing modern rustic home designs isn't hard at all when you're aware of these helpful tips.
The key is to remember that modern rustic home designs are just like any other home design; they should make you happy.
That's what makes them so timeless.
2. Braidwood Armchair
This modern rustic home decor piece is the perfect way to add a touch of rustic charm to your home.
The Braidwood Armchair features a classic design with a modern twist. The chair is made of natural wood, which gives it a rustic look, but the clean lines and simple design give it a modern feel.
This piece would be perfect in any room in your home, from the living room to the bedroom. Plus, this modern rustic home furniture will fit in nicely with any other pieces you may have.
Humboldt Countertop
If you're looking for a modern rustic kitchen design idea that can make your kitchen truly stand out from the rest, this countertop may be just what you need.
It's handmade by California craftsmen and features an interesting textured surface that adds character to any space while also providing functionality as a workspace or display area.
The Humboldt Countertop looks like something right out of Instagram (though we recommend actually cooking on it), so if you want people to think your space has that warm, inviting atmosphere – this may be the answer.
3. Marbled Table Top
This modern rustic home design is chic and unique. A marbled table top is the perfect way to add a touch of luxury to your home.
Plus, it's easy to care for and maintain. You can find marbled table tops at most home stores or online.
Here are some tips for creating a modern rustic home:
Use natural materials like wood, stone, and metal.
Incorporate earthy colors into your design scheme.
Create a cozy and inviting atmosphere with comfortable furniture and warm lighting.
Add personal touches with family photos, handmade decor, and unique accents.
Keep things clean and clutter-free for a modern look.
Include fresh flowers for an extra dose of color and liveliness.
7. Add textiles, such as rugs, pillows, throws, curtains and fabric wall hangings to tie everything together.
8. Don't forget about accessories! For example candles and plants make excellent additions to any modern rustic home design.
4. Beautiful Stools
I just love the modern rustic vibe of these stools. The warm wood tones and simple yet stylish design make them perfect for any space.
Plus, they're great for both indoor and outdoor use.
If you're looking for some modern rustic home decor inspiration, be sure to check out these beautiful stools.
They're a fantastic addition to any modern rustic interior design or modern rustic home decor project.
They can also be used as an accent piece in any room and would look especially good in a kitchen or bar area.
These are one of my favourite pieces in this modern rustic home because they look so sleek and classy.
There's just something about their simplicity that makes me love them even more.
These lovely stools will add warmth and charm to your modern rustic interior design or modern rustic home décor project without taking up too much space.
5. Great Metal Wall Art
Another popular way to incorporate modern rustic home decor is through metal wall art.
This could be anything from a sculpture to a piece of modern rustic home furniture like a dresser or end table.
By using natural materials and clean lines, you can create a space that feels both modern and rustic.
I hope these 8 modern rustic home designs inspire you to think outside the box when it comes to designing your own modern rustic interior design.
Remember that modern rustic home decorating doesn't have to mean creating an entire rustic themed room- just add touches here and there with modern rustic home furniture pieces or modern textiles.
6. Cool Bed Frame
This modern rustic home decor design is the perfect example of how you can take a simple, cool bed frame and add some rustic touches to make it unique.
The headboard is made from reclaimed wood, and the bedding is a mix of textures and patterns. The nightstand is a simple white table with a rustic lamp.
The overall look is modern and rustic, and it's perfect for a cozy bedroom.
If you're looking for modern rustic home decor inspiration, this is a great design to copy. It's functional, fun, and beautiful.
Modern rustic interior design should be all about comfort and warmth.
Some modern interior designers recommend making your furniture more natural in order to reflect these values.
One way you can do this is by choosing fabrics that are rough or have hints of fur on them- these provide instant coziness!
Plus, who doesn't love fuzzy blankets?
Modern rustic home furniture is all about keeping things minimalistic yet interesting- think lots of raw wood or natural textures like wool.
7. Natural Wooden Desk
This modern rustic home decor style is perfect for anyone who loves the outdoors and wants to bring a little bit of nature inside.
A natural wooden desk is the perfect way to do this. Plus, it's a great way to add some rustic charm to your home office or study. Modern Rustic Interior
Geometric Coffee Table
Add a geometric coffee table to your modern rustic interior design that gives you plenty of room for books, magazines, and other things you might need while working from home.
Geometric designs can be as simple as basic squares and triangles or as complex as highly detailed works of art that look like they were taken straight out of an architectural sketchbook.
Floor Lamp
The floor lamp has become one of the most popular modern rustic home furniture pieces in recent years because it does so much with just one piece.
A floor lamp doubles as an ambient light source and a side table when it's not in use – how convenient.
8. Home Theatre Set Up
This is additional for entertainment purpose.
This modern rustic home decor set up is perfect for any movie lover. By combining a few key pieces of modern rustic home furniture, you can create a stylish and cozy space to watch your favorite films.
To get this look, start with a comfortable couch or recliner and add some throw blankets and pillows for extra warmth.
Then, add a coffee table and end table set up with plenty of storage for your DVDs and Blu-rays. Finally, string some fairy lights around the room for a touch of whimsy.
Get inspiration from our Modern Rustic Home Decor Design Guide.
Fix, If Something Requires To Bring Rusticity Into Your Home
Repaint The Portion If Necessary

Polish The Wooden Furniture To Make It Look Glossy & Safe

Incorporate Modern Art

Use High-Quality Wall Stickers of Your Choice

Mix In Vintage Textiles
Modern Rustic Laundry Room
In addition to being visually appealing, these rolling baskets can be distributed among your family members for simple sorting.
As an alternative, Emily Henderson, the brains behind this laundry sanctuary, advises utilising one for clean and another for dirty laundry.
Modern Rustic Kitchen Decor
Although this spacious, sunny kitchen by deVOL Kitchens has a huge farmhouse table, butcher block worktops, and kitchen canisters with a vintage feel, it comes across as decidedly modern due to the floor to ceiling windows, subway tiling, and fashionable black paint.
Modern Rustic In A Traditional Kitchen
Surprisingly modern elements in this otherwise rustic kitchen by deVOL Kitchens include marble and gold accents.
The room has a contemporary farmhouse atmosphere thanks to a large wooden table and seat, an antique hutch, and even colourful plates hung on the walls.
Outdoor Entertaining That Feels Like Modern And Rustic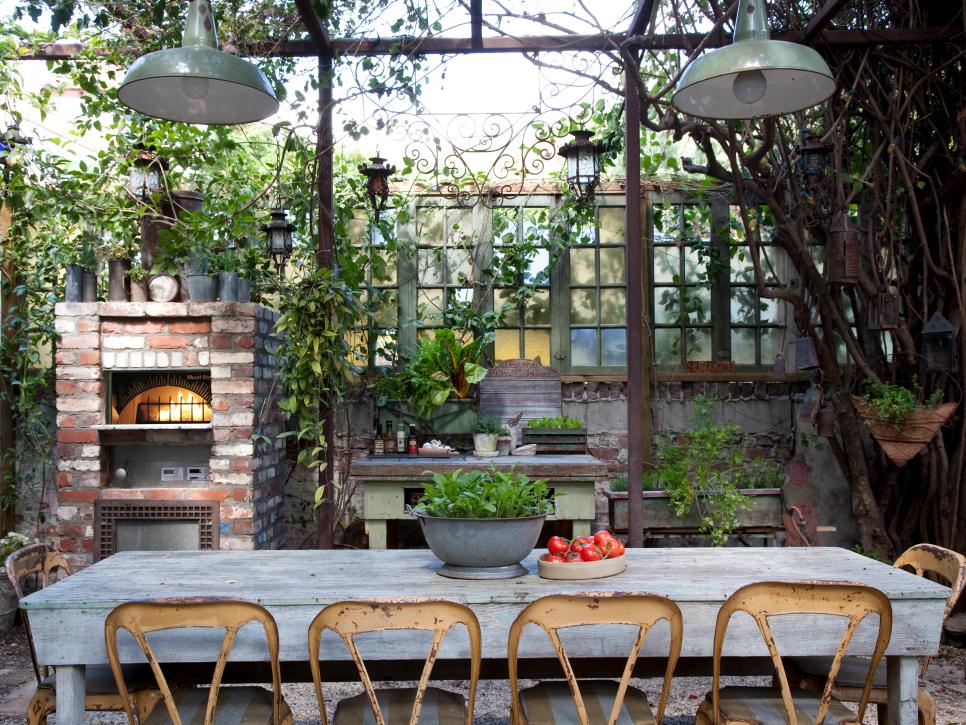 This bar cart, in our opinion, perfectly balances "trendy" and "traditional" with its unpolished appearance and rustic appeal.
Add barware and a few antique touches, as Emily Henderson Design did with those copper lanterns, and you've got yourself the ultimate entertaining space.
Modern Rustic Bathroom Decor
The salvaged wood bathtub in this bathroom by the Junk Gypsies contrasts with the modern subway tile backsplash.
Modern Furniture In A Rustic Living Room
In this otherwise rustic area, a sleek, mid-century modern armchair (this one by Barker and Stonehouse) creates a contemporary niche, especially when it is covered in velvet, the material du jour.
Rustic-Modern Sitting Room
The rustic centrepiece of this sitting area is a freestanding fireplace flanked by heaps of logs.
The furniture is reduced to a minimum for a sleek yet cosy appearance.